Hace unos dias recibi mi paquete de " Kanji de Manga" que es una serie de libros para personas que estudian el idioma japones por su cuenta, y ya que mi meta es estudiar en Japon, mejor empiezo a estudiar el idioma de una vez.
A few days ago, i got my "Kanji de Manga" Special Box, this
b
ox is for people that is studying the Japanese language, and because my goal is to study in Japan, is better if i start right now.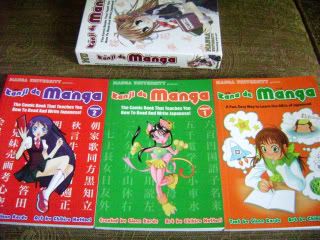 La caja trae 3 libros, 1 para el Hiragana y Katakana, y los otros 2 para aprender Kanji.

The box contains 3 books, one for the Hiragana and Katakana and the other ones for Kanji.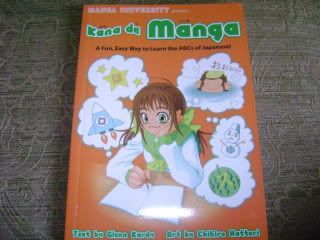 Este es el que enseña como leer y escribir el Hiragana y el Katakana.
This one shows you how to write and read in Hiragana and Katakana.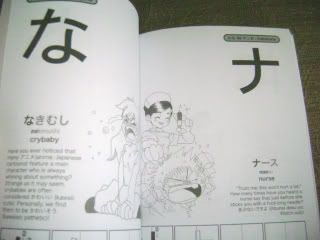 Pues como podran ver, trae un poco de manga con su descripcion del dibujo, donde incluyen mas palabras en japones para aprender un poco de vocabulario, y hasta abajo esta la seccion de practica " que tambien hay en la parte de atras del libro".


Well, the book has some manga pictures with a little description at one side, where they include some Japanese words, so you can learn some vocabulary, and at the bottom is the practice section " you can find an other practice section at the end of the book.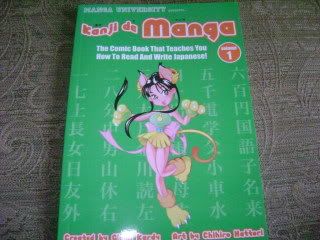 Y este ya es para aprender los Kanjis, el libro en si, trae 80 Kanjis para aprender que te ayudaran a pasar el
JLPT.
And this one is to learn the Kanjis, this book have 80 Kanjis to learn, that will help you to pass the JLPT.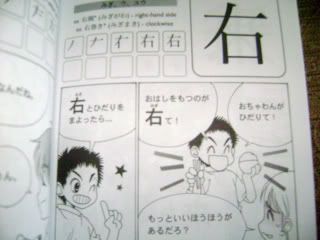 Como podran ver, los otros 2 libros de Kanjis son mas complejos, ya que para entender hay que aprender el Hiragana y el Katakana a puro huevo.
Well, how you can see, the 2 Kanji books are more complex, b
ecause if you want to understand, you will need to know how to read the Hiragana and Katakana.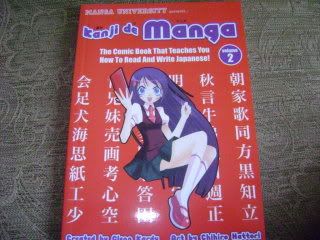 Y ese es el ultimo, que es lo mismo que el de arriba solo que con otros 80 kanjis diferentes. y bueno, ya mande a pedir el libro numero 3 para seguir aprendiendo Kanjis, en unos dias me estara llegando. Esta es una forma muy facil y rapida de aprender, pero les digo que si quieren saber como conjugar verbos y formar oraciones, tendran que tener algun libro que les enseñe la gramatica, o en internet pueden buscar, solo recuerden que una vez sabiendo al gramatica, podran usar el vocabulario que estos libros les enseñan para formar oraciones, o bien pueden dejar la gramatica para el final, alli es como ustedes quiera... El precio de esta caja es de $27, a mi me costo $33 por el envio y el pais donde vivo.
Que tengan un buen fin de semana ;)

And that's the last book, its the same as the other one, but this one has an other 80 diferent kanjis, i already bought the 3rd book, in a few days i'll go to get the book. This is a fun and easy way to learn Japanese, but if you really want to make complete sentence's and speak japanese, you should buy or find on the internet how to learn the grammar, once you learn the grammar, you'll be able to use all the vocabulary words on this books. The price of the box is $27 but i bought it at the price of $33, because i dont live in USA...
Have a nice Weekend Everyone ;)